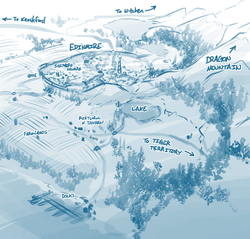 Edinmire (IPA(key) /ɛdɪn'maɪr/) is a town featured prominently in the Twokinds story.
The quadrennial "Dragon Masquerade", a Masquerade Ball where Humans and Keidran would meet and celebrate in peace, occurred in Edinmire. Flora, after being enslaved at the age of 3, was raised by Keiren's family here, leading her to know a great deal about the town. This quaint town is also the site of the Templar Academy where Trace first met Lady Nora, Saria au Gruen, Mary Silverlock, and the Master Templars. Presently, the events of Chapter 18 are presently unfolding at Edinmire.
Prominent Locations
Edit
Edinmire Docks
Edit
The Edinmire Docks is the present location of the Na'Rella, and is one of the primary targets of the Wolven terrorists. This is also the location in which the Na'Rella was destroyed.
The Riftwall East Tavern is a popular Tavern in Edinmire that serves exquisite Keidran cuisine.
Shepherd's Square
Edit
Shepherd's Square is the site within Edinmire where the Tiger Keidran met with Brahn for peace talks. Because of these peace talks, Shepherd's Square became a primary target for the wolves.
Prominent Peoples
Edit
Community content is available under
CC-BY-SA
unless otherwise noted.