Chapter 9
Troubled Waters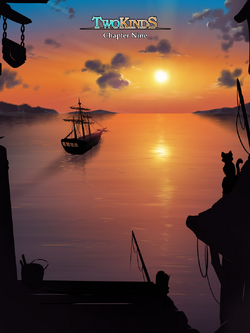 New titlecard
Information
Author:
Tom Fischbach
Progress:
Finished
Number of Pages:
61
Start Page:
286
End Page:
346
Book:
Notes:

Troubled Waters is the 9th chapter of TwoKinds.
The group has found a boat and are ready to sail to Keith's homeland. But a malevolent group is keeping track of their movements...what could be their end goals?
Transcript
Edit
Underwork
Characters
Edit
Community content is available under
CC-BY-SA
unless otherwise noted.