Chapter 3
Never Forget, Never Remember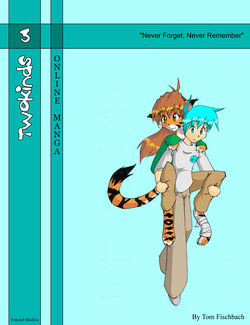 Information
Author:
Tom Fischbach
Progress:
Finished
Number of Pages:
26
Start Page:
48
End Page:
73
Book:
Book 1
Notes:
Never Forget, Never Remember is the title of chapter 3. It focuses on building Trace's relationship with Flora. The members of B-group's personalities and relationships with each other are also illustrated more clearly.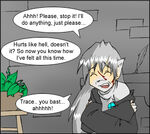 Flora's foot injury is severe enough that she is taken into town by Trace to see a healer. Upon entering the city, Trace and Flora come across a Tower that triggers some of Trace's memories. The memory enters 4 years prior, showing Mary Silverlock, the Grand Templar, being defeated by Trace and forcibly turned into a Keidran.
Trace comes out of his daydream and they head into the city, with Flora pretending to be his slave. Maren, Karen, Red, and Raine head into the city from another direction to continue their search for Trace. Trace meets a healer, who refuses to treat Flora until Trace tells him who he is.
Upon the healers quip that Flora's breasts are too small, Flora drags Trace to a bathhouse to compare with other women. She enters the same bathhouse that Maren's group is using.
While Trace waits outside the bathhouse, he is watched by a black cat under the control of the Master Seer. Trace enters the bathhouse, only to be greeted by Red who brings him back to the rest of the group, which happens to be in the girl's bath. Red is kicked out, although Trace remains behind until Flora drags him out of the bath and outside into the storm. Trace and Flora, Maren's group, and Keith the Basitin all end up going to the same tavern for shelter from the storm without knowing of the others' presence.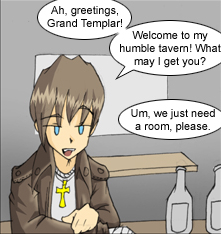 The Human at the tavern (also the Master Spy from the jewelry store) gives Trace and Flora a room and brings refreshments up, including some of Trace's favorite ale and some special milk for Flora. The milk acts as a "love potion," causing Flora's SubtleSeed Crystal Necklace to glow and Flora to pounce on Trace. Trace's cries for Flora to control herself are heard by Maren's group, Keith, and Sythe. Flora falls asleep on the bed and all three groups burst into the room, including a special appearance from Tom as the pizza guy. Trace takes Flora and gets a new room, while everyone left eats Tom's pizza and relaxes. Keith drinks the ale meant for Trace and has a dream-fantasy about Flora.
Flora wakes up the next morning and snuggles next to Trace while he is still sleeping.
Transcript
Edit
Underwork
Characters
Edit
External Links
Edit
References
Edit
Community content is available under
CC-BY-SA
unless otherwise noted.