Chapter 14
Mutiny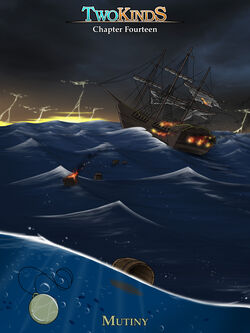 Information
Author:
Tom Fischbach
Progress:
Finished
Number of Pages:
47
Start Page:
614
End Page:
660
Book:
Notes:

Mutiny is the 14th chapter of TwoKinds.
Flora has tried to persuade Eric to free his slaves: Evals and Mike. However, the deal falls through and Evals attempts to begin a mutiny on the ship. Meanwhile, a mysterious figure has managed to sneak inside the ship...
Transscript
Edit
Underwork
Characters
Edit
Community content is available under
CC-BY-SA
unless otherwise noted.