Chapter 12
The Morning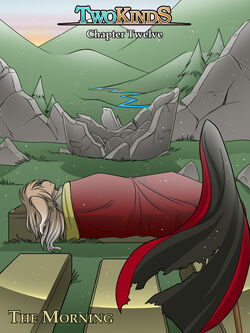 Information
Author:
Tom Fischbach
Progress:
Completed
Number of Pages:
66
Start Page:
530
End Page:
595
Book:
Notes:
The Morning is the 12th chapter of Twokinds.
After the fall of the Templar tower, Keith and his friends face execution. Trace and Laura are both missing. Meanwhile, a second party has formed and are running into problems...
Transcript
Edit
Underwork
Characters
Edit
Wolf Boss
Wolf 1
Wolf 2
Basitin Doctor 1
Basitin Doctor 2
Basitin Doctor 3
Basitin Soldier
Aster Alabaster (First Appearance)
Juror 1
Juror 2
Juror 3
Juror 4
The fact the chapter runs from 2009 to 2011 makes this chapter the longest running chapter to date.
This chapter marks Laura's last appearance and speaking cameo until Chapter 15, although she is mentioned in Chapter 13.
Community content is available under
CC-BY-SA
unless otherwise noted.