Chapter 10
Loyalty or Honor?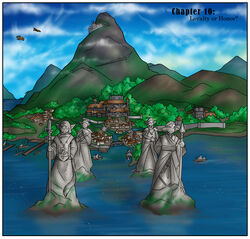 Information
Author:
Tom Fischbach
Progress:
Finished
Number of Pages:
97
Start Page:
347
End Page:
443
Book:
Notes:
Loyalty or Honor? is the 10th chapter of Twokinds.
Keith comes back home after many years of being exiled. Although most of them are happy he's back, some of the Basitins want him gone and dead before he ever sets foot on the island again. But the Basitins are also up to something big...
Transcript
Edit
Underwork
Characters
Edit
Albion Alabaster (First Appearance)
Musclehead General (First Appearance)
Butcher
Roran (First Appearance)
Basitin Soldier 2
Templar
Madelyn Adelaide (First Appearance)
Knight
General
Cathleen Kaiser (First Appearance)
Lynn (First Appearance)
Basition Soldier 1
Randal (First Appearance)
Templar 1
Templar 2
Girl (Cameo)
Keiren (Cameo)
Basitin Soldier 3
Tavernkeeper
Basitin Soldier 4
On Page 434 No Characters appear onscreen. The only "Appearances" are that the page occurs on the Basidian Islands, in the Tavern the group is staying in, with Natani's Robes and Chest bindings as well as Keith's Clothing and Helmet appear in screen.
Community content is available under
CC-BY-SA
unless otherwise noted.